Window Treatments
At O'Brien's Carpet One Floor & Home in Colorado Springs, we are here to help you with more than just flooring. We are your local home design center, offering window treatments along with our wide selection of flooring. Our window fashions range in price, style, and material to fit most homeowner's needs. We have professionals in store with more than twenty years of experience who can assist in your home design, so finding your ideal window treatment is easier than you think.
Benefits of Window Treatments
Window treatments keep the sunlight out and darkness in. A considerable benefit of treatments is that they help you get the lighting you want on your terms. Rather than having a face full of sun in the early hours of the morning, enjoy sleeping until the time of your choice. Window treatments also offer privacy when you desire. Lower the blinds or shades when you get home to keep your home private, or keep them open if you have guests coming over, all made possible by window treatments.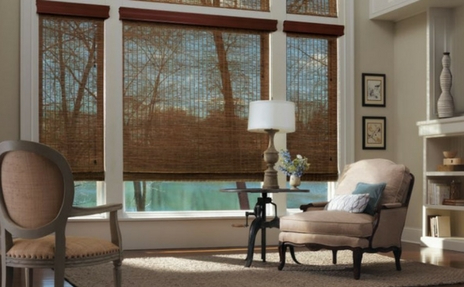 Window treatments protect your floor from the harmful effects of the sun and keep floors from fading quickly. Whether you have carpet or hardwood, longer lasting floors are always an added benefit of window treatments! Motorized treatments have also made tall windows more accessible, as controlling the shades is much easier today than in the past. Along with treatments that can be controlled with a remote, some can even connect to a smartphone. Window treatments that connect to smartphones can be set to a specific time or configured to move up and down with the sunrise and sunset.
Energy efficiency is also an advantage of window treatments. By keeping the sun out in the summer, your home will stay cooler longer. By allowing the sun through your windows in the winter, the warmth will help insulate your home, which means less costly heating and electric bills.
Types of Window Treatments
In our store, we have both hard and soft window treatments. Hard window treatments are made of plastic, metal, or wood, and soft window treatments are constructed with material. Hard window treatments are easier to clean and are ideal if you are looking to filter light through windows. Soft treatments come in honeycomb, cellular, and roman shades and can either be sheer or offer complete darkness. We carry Hunter Douglas and Horizon window treatments and can even do drapery, pillows, and valances customized to your home design.
Hunter Douglas

We balance style with function by offering Hunter Douglas window treatments in store. We are proud to serve Colorado Springs our exceptional design service and some of the best window treatments available on the market today.